News
News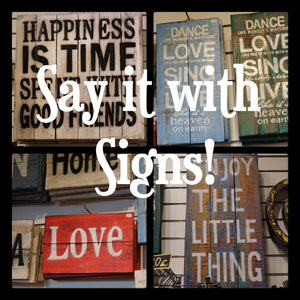 Viking Woodcrafts Monthly Blog March 31, 2021
It's a sign!
Creating signs has become a popular past time in the last few years. From simply-done lettering to more painting-intense versions with added images, sign making is the perfect spring project. Whether you are creating an special sign for spring or everyday use or even getting a head start on your fall and holiday painting, sign making can be a fun and rewarding experience.
Patterns abound, in books and packets, the following are just a few found here at Viking Woodcrafts in our large selection of books and pattern packets.
Viking Woodcrafts also carries a full line of just about any sign shape you could desire. Shown below are just a few, from the mini signs with easels to the grooved style signs. Sizes for signs can range from mini to huge, it's all up to you. Let Viking be your one stop shop for all your sign making!
All wood blanks, books and packets shown in this article are available through www.vikingwoodcrafts.com
Stencil of the Month!
Ah the elegant dragonfly, he flies about with nary a worry. What a fun stencil, combine this with a cute saying and a wooden sign shape and you have a fun spring project! This month's stencil order number - Sku: 52-0147 
Upcoming News
Viking's sister company, Painting World Magazine has exciting news, effective in April they will be carried nationwide in select stores in the US and Canada.
Photo Credits - Top - Various Artists, Unsplash & Pixabay. All others Viking Woodcrafts & Painting World Magazine.