Viking Woodcrafts Blog - February 28, 2021
Viking Woodcrafts Blog - February 28, 2021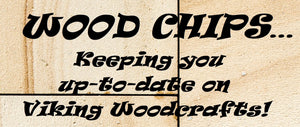 Another month has passed and spring is almost here. A time for rebirth. A great time to be a creative soul! Here is to a wonderful season and some awesome projects!
Here at Viking we have been busy. We recently unveiled our all new roster of brand ambassadors, exclusive designers, stamp and stencil designers and our Tole-tally brush art box project designers. Please welcome these very talented people and watch for some great things from them in the future!
This month on the blog we want to promote a new from Marlene Fudge, Exclusive Designer for Viking Woodcrafts. Using our rectangular wire basket with bottles she has come up with a perfect welcome to spring along with a reversible design for the winter season. This pattern packet will be available soon on the Viking website.
Extra! Extra! Read all about it! Viking's sister company, Painting World Magazine, has some exciting news. We are expanding...
Keep checking the website! Have a great March!
Photo Credits - Typewriter, Markus Winkler
                         Floral Background, Andrew Small